Unsung Heroes: Ralph Grimston
08 Dec 2021
|
Last Updated 08 Dec 2021

Childhood memories are among our most precious. They stay with us as we grow, provide the foundations for who we are and preserve the most poignant moments of our lives.
For Donna Maloney, daughter of 90-year-old NewDirection Care resident Ralph Grimston, one of those memories is of her father Ralph working late at night in the garage at the back of their family home in Fairfield in Sydney's western suburbs.
"Dad loved cars," recalls Donna. "In fact, apart from his family, cars were one of the greatest loves of his life. He raced midget cars that he built himself with some of his friends.
"He'd come home from work and after dinner he'd always be in the garage working on the midget racer. I'd stand at the back door and listen to the metallic clink as he worked on the engine or the exhaust, or whatever it was that needed doing before the race on the weekend. The garage light streaming through the door and along the path – it's so vivid, like it was yesterday."
Ralph and his younger brothers Brian, who owned and ran a service station at Enfield in Sydney, and Neville were regular competitors at Sydney's Westmead speedway during the 60s and 70s, where they pitted against equally passionate drivers on dampened dirt tracks, vying for silver-plated trophies and a little bit of speedway glory.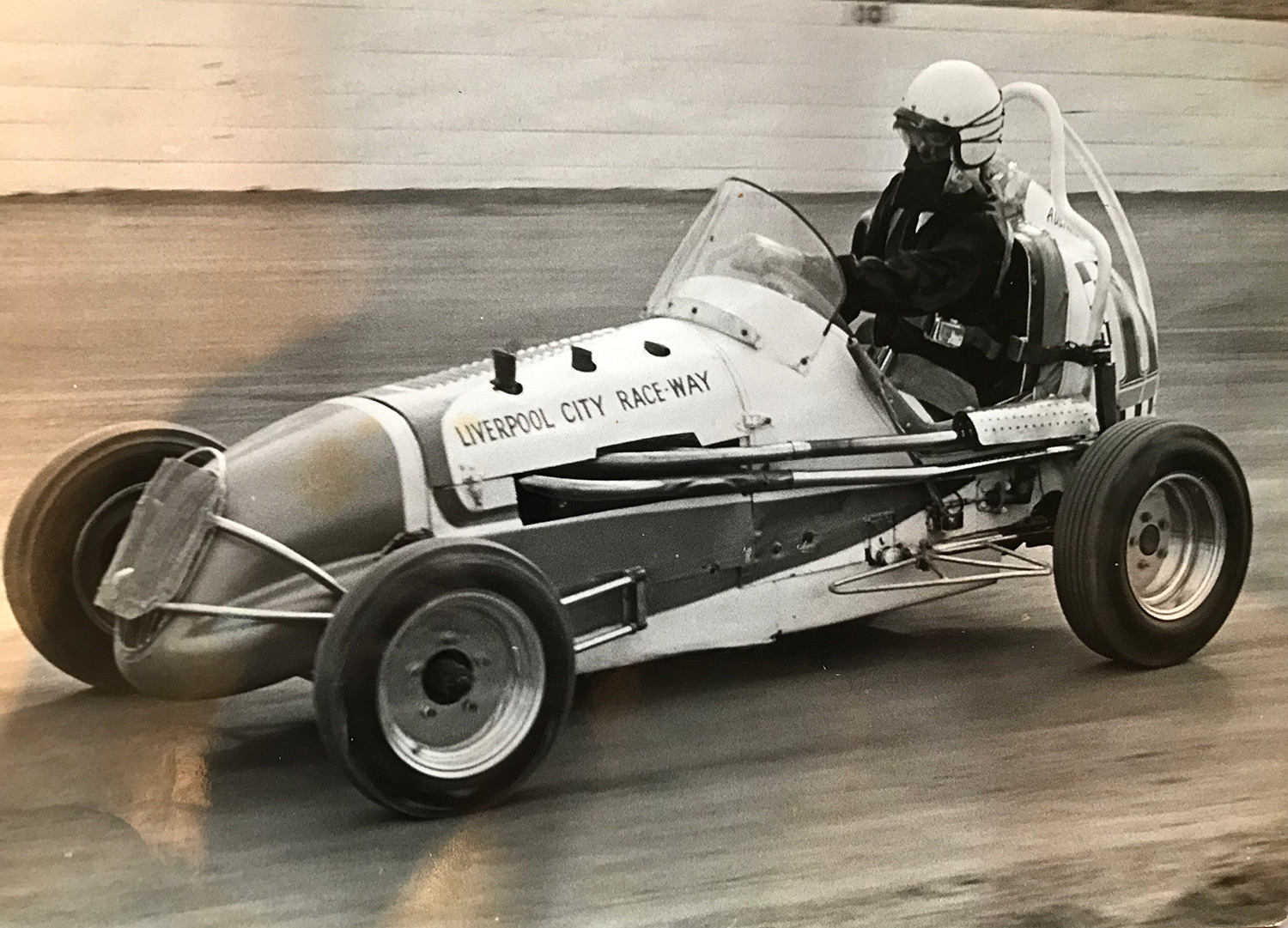 In fact, they won a slew of trophies between them that took pride of place in their homes and created a cache of happy memories for their families.
Ralph, who was a regular competitor at Westmead Speedway, Amaroo Park, Liverpool raceway and the Sydney Royal Showground track, was widely regarded as one of the best and most experienced speedway drivers in the state.
When his son Stephen turned 12, he became a member of his father's pit crew working side by side with his dad into the mid-70s.
His passion for racing even took him to the United States in the early 70s to watch the famous Indianapolis 500, one of the world's most famous car races.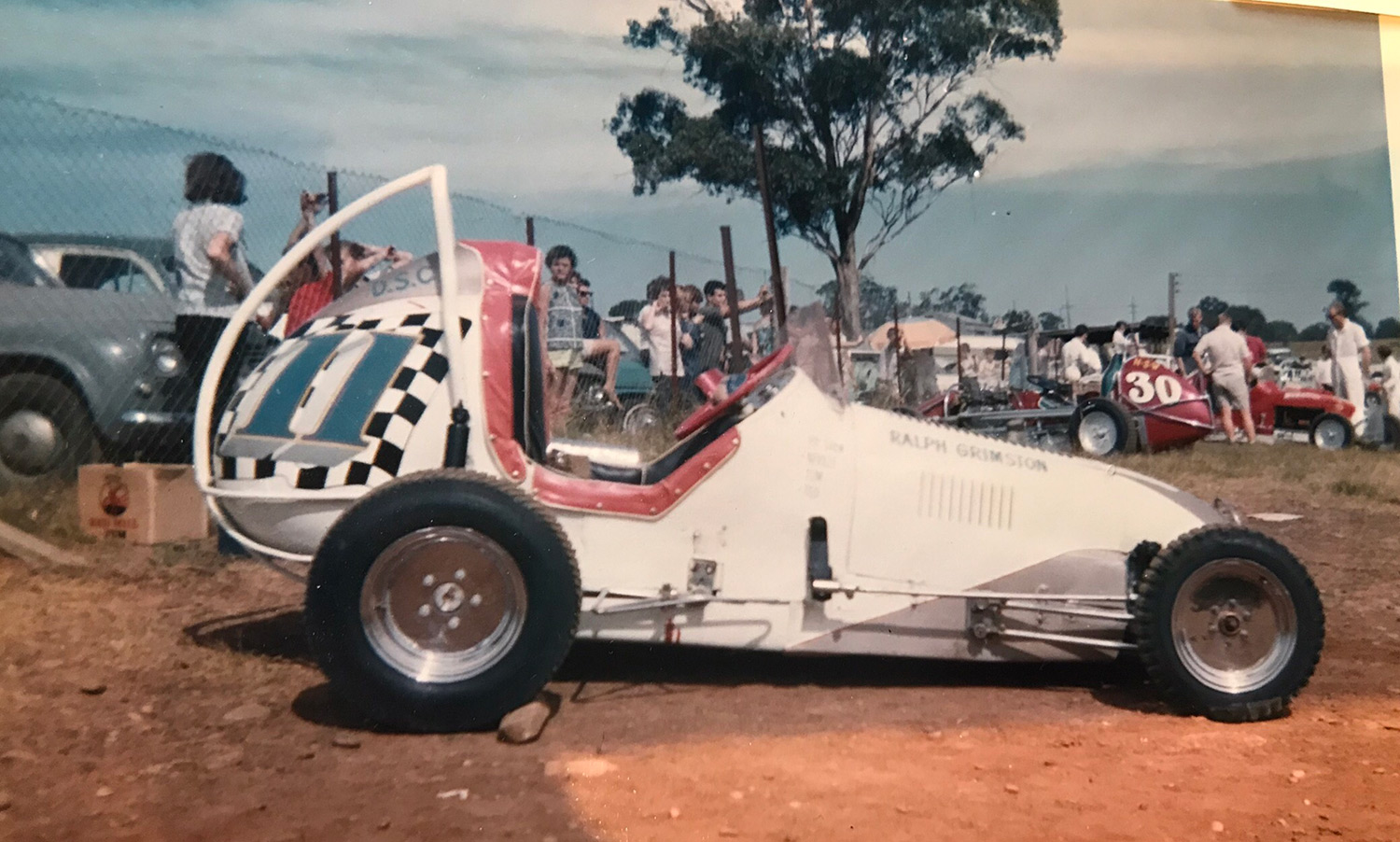 Ralph's days as a competitive driver however came to an end during the mid-70s when he was involved in a serious speedway accident that demolished his race car.
"Dad's car was wrecked, and mum was quite distressed about it," recalls Donna. "She said, 'Look that's enough. I couldn't take it if you weren't around.' Dad decided that he'd stop racing, not because of the risk but because mum asked him to, and because the car was such a write-off that it would have cost a fortune to rebuild and at the time, we really couldn't afford it. But he didn't give up his love for cars and racing, and he was always keen to watch a race if he could."
Ralph Grimston was born in Belfield in Sydney on December 13, 1931, the eldest of three boys. He attended Belmore Boys High School, where he played rugby league (developing a lifelong passion for the Canterbury- Bankstown Bulldogs Rugby league Club, where he is still a life member) and eventually completed a mechanics course. After he left school, he completed an apprenticeship in printing.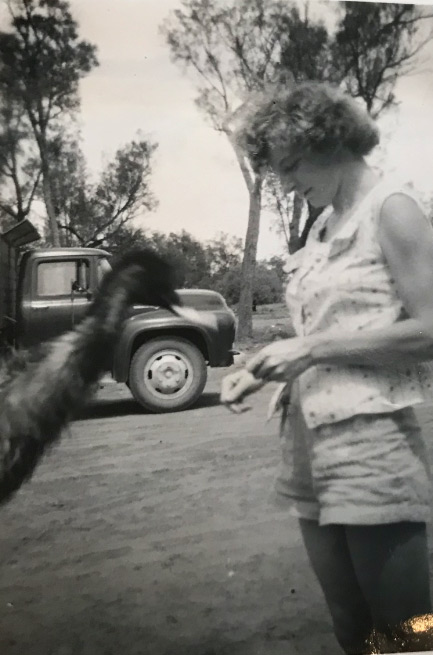 "Dad met my mum, Amy, in the late 40s," says Donna. "She was the daughter of one of my grandmother's friends. My grandmother and her friend used to work at Jeldi, a textile and clothing manufacturer in the Newtown area.
"Dad met Amy and they became good friends and eventually they started dating. He used to ride his push bike with mum on the back out to Fairfield so they could go to the Butterfly Dance Hall in Fairfield. They married on March 29, 1951, in the Anglican Church at Redfern. Dad was 21 and mum was 18."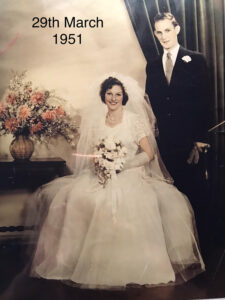 Two years later Amy gave birth to their first daughter Lorraine, who was followed four years later by their son Stephen. Another six years passed before Donna, their third and youngest child, came along.
Ralph had a job driving tip trucks for Monier metals for a while, before the family moved to the country, to a rural property at Conoble, near Ivanhoe in western NSW where he drove trucks at a local gypsum mine.
"It was a good life. They loved it out there. Mum and dad had a pet emu named Elvis who used to poke his head through the dining room window and eat off the dining table at meal times," says Donna, who adds that Ralph has always had affectionate and long lasting connections with animals during his life, including a Bitzer dog named Sam, a Persian cat named Snowy, a German Shepperd named Missy, a rabbit named Peter, many birds and his most recent pet, a feisty little Jack Russell dog named Bindi.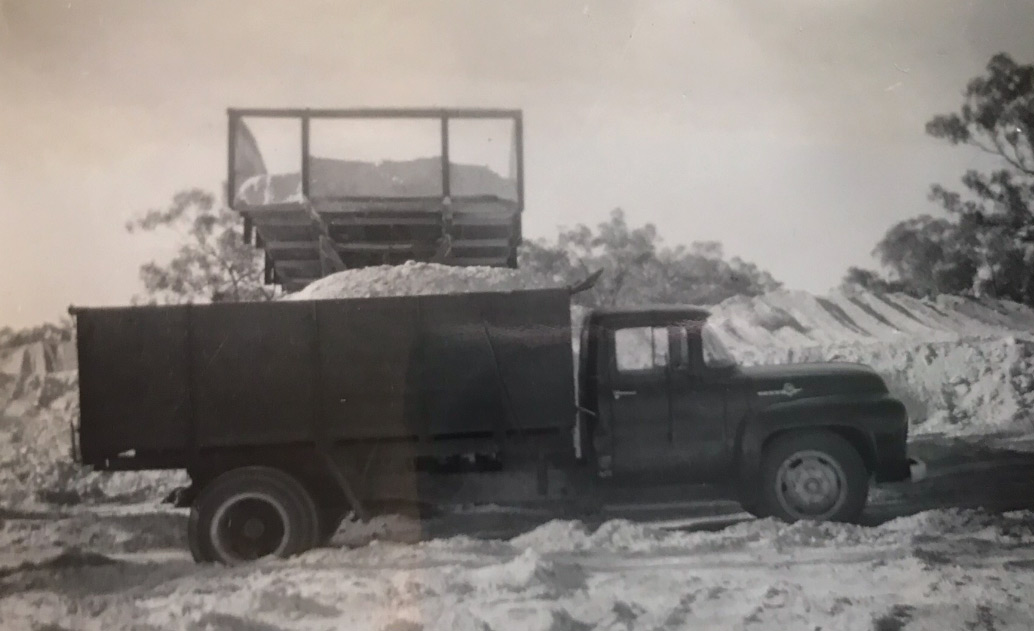 They moved back to Sydney in the 70s and they moved into a new home in Fairfield West, shortly after Donna was born.
Ralph purchased a mobile slewing crane and started work for EPM Concrete in Blacktown erecting concrete panels and loading semi-trailers. He was also a prominent member of Freemasonry's Lodge Kenilworth, with which held the position of Worshipful Master from 1977 to 1978.
"One of dad's proudest moments was working on the construction of the Opera House in Sydney during the 70s," says Donna. "He laid the steps outside with his crane. Any time we saw the Opera House he'd say, 'I laid those steps.'
In later years, Ralph and Amy retired to a house they had built in Bawley Point, NSW. Ralph also had a small truck that he used to deliver kitchens for new homes, work that took as far afield as Canberra and Sydney. But he still had time on his hands, and Ralph volunteered as a driver ferrying athletes around the various venues at the Sydney Olympics in 2000.
They lived at Bawley Point, happy in retirement until 2013. Amy fell seriously ill, and they moved back to Sydney to facilitate her medial treatment, purchasing a home at St Clair in Sydney's west. Amy died from cancer in 2016.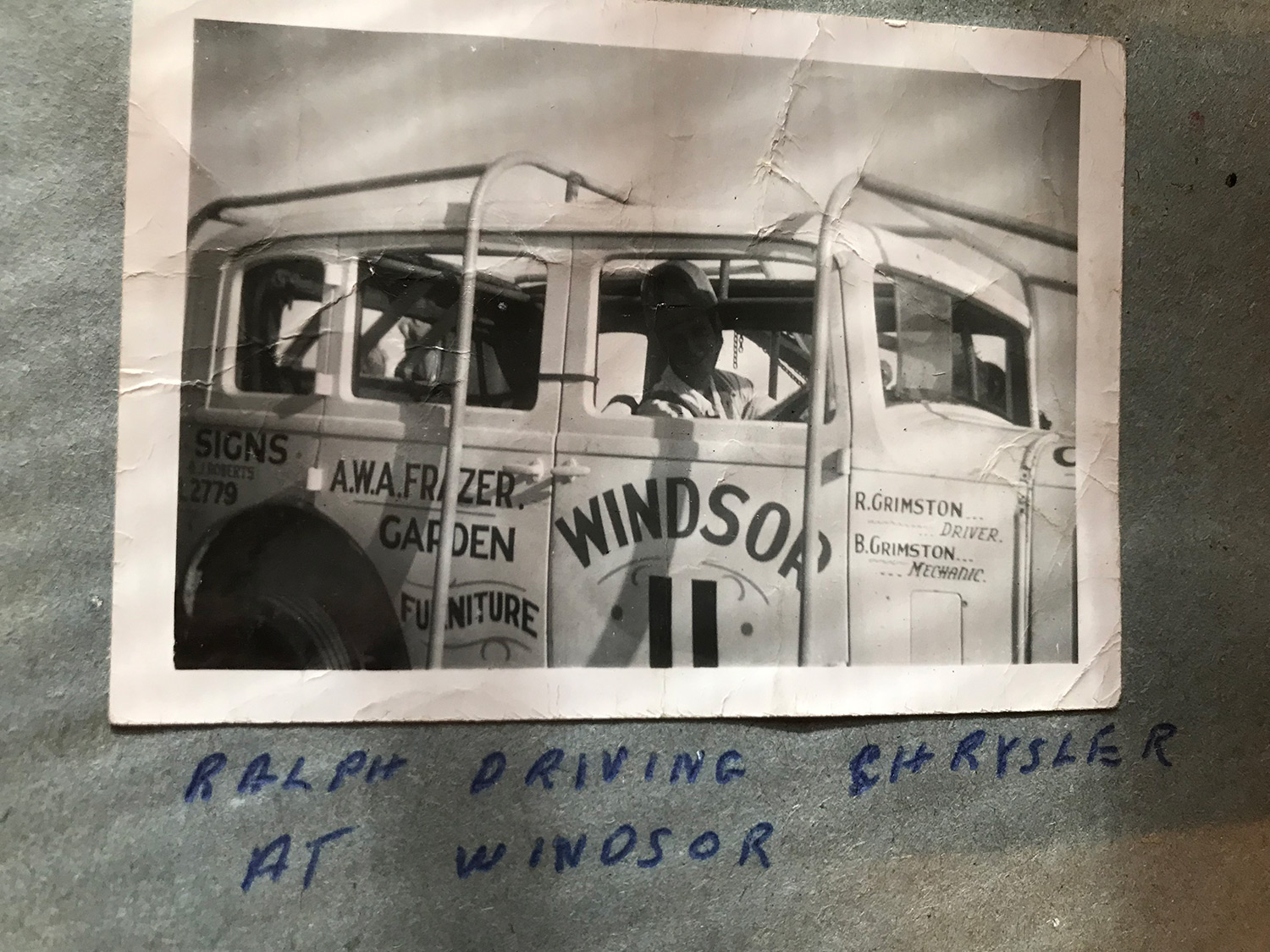 But there was more trouble in store for Ralph. Shortly after Amy's death he was diagnosed with a malignant melanoma. After undergoing surgery to remove it in 2017, the anaesthetic deeply affected him, quickening the onset of dementia.
"We first started to notice that there was something happening with dad in 2015," says donna. "He just wasn't himself. He had a $10 clock that we bought from a dollar shop. It was nothing special. But a couple of times, dad took it down to the jewellers to get it fixed. But it didn't really dawn on us after mum passed away."
After his melanoma operation, Ralph wanted to recuperate with his daughter Lorraine, who lived with her family in Queensland. He ended up living with them for several years. Donna and her husband Garry sold their house in NSW and moved to Queensland to be close by.
Ralph was placed at NewDirection Care Bellmere for respite care in August this year. He had been assessed as medically unfit to continue living with his daughter, and when a permanent position became available at NDC the family agreed to put him in care.
"We are very happy with the care he gets at NDC," says Donna. "Dad was always a very smart man. Any of us could ask him any kind of question and he always had the answer. The most important part of his life is his family. He has eight grandchildren aged from 40 down to 30. They love their poppy. He is also a great grandfather to six great grandchildren, and they all adore him, too.
"The family is spread out and during COVID it's been difficult for them to see him, but we are hoping that will change during the next few months. He's happy and he's healthy and we are just living one day at a time."