NewDirection Care Bellmere and Natasha Chadwick Are Crowned 2021 innovAGEING National Awards Winners
28 Nov 2021
|
Last Updated 30 Nov 2021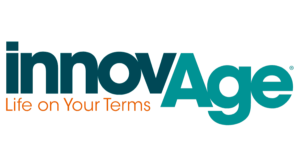 NewDirection Care Bellmere made history last night by becoming the first organisation to win two awards in the same year at the prestigious 2021 innovAGEING National Awards.
NewDirection Care won the Enhancing Consumer Experience award and the company's CEO and founder Natasha Chadwick was bestowed the Age Services Innovator of the Year Award.
NewDirection Care CEO and Founder Natasha Chadwick said that she was honoured to receive national recognition for the success of her vision to build an inclusive village-like community known as a MICRO TOWN®.
"Innovation is the only way forward if we want to improve aged care in the future," said Natasha Chadwick, CEO NDC Bellmere. "As I highlighted in my acceptance speech, it's not only up to aged care providers to innovate and I call now on our Government and the Quality Commission to join us on our journey to innovate and transform our aged care industry."
Natasha also paid tribute to her team and the residents at NDC. "These awards are also testament to the work achieved by our team at NewDirection Care and our wonderful community of residents."
Previously, Natasha won 2019 Telstra Business Woman of the Year and international awards including the 2018 The Most Outstanding Care Innovator and Ageing Asia's Elder Care Innovation Award.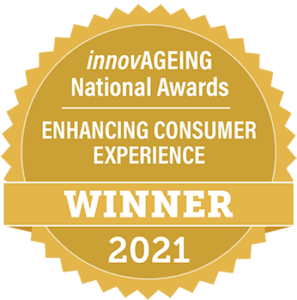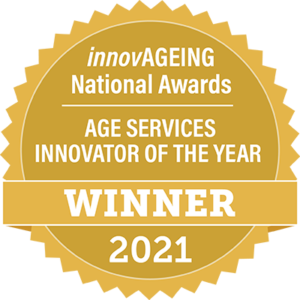 On congratulating Natasha Chadwick and NDC Bellmere, Merlin Kong – Head of innovAGEING described NDC Bellmere's achievement as 'impressive'.
In a statement released today, innovAGEING and its Foundation Partners, the Commonwealth Bank and KPMG Australia said that NewDirection Care won the Enhancing Consumer Experience category "for their work in reimagining aged care through a resident-centred, de-institutionalised model, and where success is not measured by revenue and profitability, but by the changes NDC has made to the lives of residents and their families".
While Natasha Chadwick was awarded Age Services Innovator of the Year Award "for her work in developing a facility that centres on an inclusive village-like community known as a MICRO TOWN®, where people live together with shared facilities allowing mutual support, freedom of movement, and choice, all in a familiar home-like atmosphere."
From a village-like community, to de-institutionalising age services, innovative manual handling training delivery, and a care hotel to avoid hospital admission – Merlin Kong said this year's innovAGEING winners highlight an exciting range of ingenuity and resourceful creativity to make ageing better.
"This is a true celebration of what is creative, impactful and good in our sector," says Merlin Kong, Head of innovAGEING.
"Year-on-year, we've had impressive finalist cohorts for the innovAGEING National Awards, and this year's winners were selected from a remarkable list of practical applications. Their success means better care and services for older Australians, and sustainability for our sector."
For KPMG Australia, who hosted this year's innovAGEING National Awards event, it was incredible to see the number and calibre of applications.
Nicki Doyle, Partner for Health, Ageing, and Human Services at KPMG Australia said, "The last two years have been incredibly challenging for the aged care sector. However, challenging circumstances are often the drivers for innovation."
"This can be seen in the work the winners and finalists have undertaken, innovative ideas being implemented that are leading to better outcomes for older Australians. It is critical that the aged care sector continues to innovate, as it is one of the critical factors to support the changes that need to occur in the sector in order to transform, which will deliver improved quality and safety for older people."
Belinda Hegarty, Head of Strategy and Insights CommBank Health said, "We are so pleased to be supporting this fantastic initiative that highlights the commitment and innovation in the health sector. Congratulations to all the winners for their ingenuity and dedication.
"It is because of their dynamic and collaborative approach that they will drive positive and meaningful outcomes across the age services industry. We are passionate about supporting the sector and look forward to seeing these programs and services come to fruition."
innovAGEING and the Foundation Partners shared their commendations to every person and organisation who entered the innovAGEING Awards this year, and those who made the final selection.
"I'd like to thank the Commonwealth Bank's Belinda Hegarty, KPMG Australia's Nicki Doyle, and Leading Age Services Australia's Kerri Lanchester for offering their time to be judges this year," Mr Kong said.
"All finalists were exceptional, and selecting the winners was not an easy process for the judging panel."
"We congratulate every winner and finalist in the overall Awards – you are paving the way for our sector to define the future, now.
Other organisation winners are:
Realising Wellness and Reablement: ECH for their Dandelion care hotel concept to scale short-term services in a more economical way compared to delivery in the home, but still delivered in a home-like environment to avoid hospital admission where possible. Dandelion provides a similar experience to a hotel stay, with a range of choices available and the freedom and independence to access required services.
Increasing Care and Service Productivity: LiveBetter and Risk Managed for their work in supporting manual handling safety and efficiency, and innovative training delivery. In turn, staff can get the personal care services done so they can focus on support that is meaningful to the client.
Increasing Access to Care and Services: Dementia Australia for their Dementia Carer Wellbeing Program to empower carers of people living with dementia with strategies and complimentary services that support the improvement of their health and wellbeing outcomes.
Improving Consumer Choice: The IRT Group for establishing Jasmine Grove an innovative, collaborative housing community, providing independent living for older single women who want to feel connected, while also addressing three major societal challenges: social isolation, housing affordability, and economic disadvantage being faced by women over the age of 55.
innovAGEING is an Australian Government-funded initiative, supported by our Foundation Partners the Commonwealth Bank, and KPMG Australia.
About NewDirection Care
NewDirection Care Bellmere is the world's first MICROTOWN™ inclusive community that provides freedom of movement, independence, and choice for the elderly and those living with a diagnosis of dementia. NewDirection Care is a residential community for the elderly and for those living with younger onset dementia and complex care needs. It is a place where residents can enjoy fulfilling and happy lives beyond diagnosis—socialising, staying active, pursuing hobbies, and continuing to play a role in the community.
More information available here: www.newdirectioncare.com.au
About innovAGEING
innovAGEING is the national network for the age services industry, funded by the Australian Government. We are open to all who care for and support older Australians. Our network includes providers, suppliers, researchers, consumer groups, investors, and public sector agencies, coming together to:
Accelerate innovation
Translate ideas into action
Deliver better outcomes for older Australians
More information is available here: www.innovageing.org.au